Which Social Media Platform is right for your business?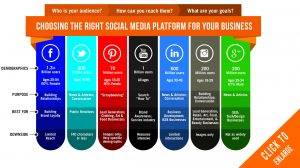 Running your own business keeps you busy, in between the day to day activities, managing staff, keeping an eye on accounts and planning, a social media marketing presence is often just a 'nice to have'. According to Steven D. Strauss, small business expert and author of "The Small Business Bible" the biggest mistake small business is making on Social Media, is not using social media.
So, how do you start? In fact, where do you start? With so many out there in the wide world of web, which platform do you choose? Every Social Media platform is different and has a core target market which is ideally suited to different types of businesses. Today I'll give you a brief overview of the seven main platforms. The goal here is to help you choose the right one or possibly two platforms that your business can shine in, instead of an occasional presence on every platform that you are TOLD you MUST be on.
There is only one rule for you, the busy small business owner – that is to find THE ONE social media platform for your business and concentrate your efforts on this, at least at the beginning. "Follow your customers," advises Strauss—in the literal sense. Find out where your customers are. Is it Facebook or Twitter, they may even prefer YouTube or Pinterest. Once you have established where they are, join them. You may not necessarily like the platform, but it is important that you 'master it'. This will not only build a strong following, but it will focus your social media efforts.
So let's go:
GOOGLE+: While Google+ isn't anywhere near as popular as Facebook or Twitter, it is important to remember … It's Google. Who do you know that hasn't had a Gmail account at some stage in their online life? There are over 400 MILLION active users with 925, 000 users joining everyday. Google+ doesn't have as many active brands as most of the other popular social media networks, but the ones that are active tend to have a great following. It is also great in that it allows you to build 'circles', not only with other brands and companies, but with your customers and users. The 'circles' you establish will allow you to target your business marketing message to more specific customer groups. Purely because it is Google, why not get started with a company profile and begin conversations now with your customers.
There are over 400 MILLION active users with 925, 000 users joining Google+ everyday.
Click To Tweet
FACEBOOK: Due to the size of Facebook it is a positive move for any business, as most people are on it, 1 Billion active users in fact. These active users share 2.5 billion pieces of content every day making Facebook one of the largest opportunities to communicate with your customers. The key word here is communicate … the goal for businesses on Facebook is to let customers see what lies beyond the logo. Staff teaming up and working together at a local event is a great way to portray your business in a friendly manner and a great place to be involved with. Correctly managed a good Facebook page can generate loyal followers and in turn become the lead generator your business might be looking for. However, it is important to remember that Facebook is a long term regular commitment and should be about building relationships. Hospitality and retail sectors work well on Facebook, especially if your company does promotional offers. In fact a well coordinated competition or giveaway is a fantastic way to grow your customer engagement base. To learn more about Facebook for business join us here.
A good Facebook page can generate loyal followers & lead generation for your business.
Click To Tweet
LINKEDIN: When it comes to business, LinkedIn is the ideal networking platform. Less visual than the other more popular social media platforms, LinkedIn currently has 277 million active users worldwide. The majority of these active users are corporate brands looking to connect and network so it is a great way to grow your business connections. There tends to be more Service providers than retailers or manufacturers and 79% of the active users on LinkedIn are 35 years or older so it is perceived as the go-to professional network. Not being a very visual platform, it is easier to talk about what your business does through the different groups and discussion boards. These groups are a perfect way to discuss your business interests and both ask and answer questions showing your area of expertise and grow your brand as one of influence. As a marketer, I not only have a professional profile, but a company page where I post links to my blogs and generally let people know about my company and what I can do for them. If you want to learn more about LinkedIn for Business and how to grow your business using LinkedIn, click here to download a great "LinkedInHow To Guide". Like all small businesses, if you enjoy the guide, please follow us and let us know what you learnt as well!
LinkedIn active users are corporate brands looking to connect & network with business connections.
Click To Tweet
YOUTUBE: YouTube is the pinnacle of visual media, with more than 1 billion unique users visiting each month and over 3 billion videos watched daily. Now in its seventh year the standard for good content is always increasing. It is important to remember YouTube is the second biggest search engine next to Google, so it deserves some serious consideration when looking at marketing your business online. People love to watch demonstrations and 'how to videos' so the key with YouTube is show or promote your service or product in a unique way and if done correctly, inspire your viewers to send it viral. If you can promote your business via video log-in to YouTube and do some research on similar videos that have had hundreds or even thousands of hits to see what actually resonates with your market.
YouTube has more than 1 billion unique users visiting each month and over 3 billion videos watched daily.
Click To Tweet
TWITTER: Twitter is a micro blogging site that limits each post to 140 characters. There are over 560 million active users and a staggering 5,700 tweets happen every second. Twitter is a good choice for professionals in the service industry as it is an ongoing conversation. People expect interaction, acknowledgement and replies on Twitter. It is great for breaking news, updates and for businesses that have a lot to say frequently. Twitter is now moving into more visual sharing with pictures and photo's taking centre stage, however sharing links to great blogs and information is still a big part of twitter. I have accessed some great tips and ideas through Twitter, but like most Social Media it is an ongoing conversation not an occasional drop-in to comment.
There are over 560 million active users on Twitter and a staggering 5,700 tweets happen every second.
Click To Tweet
INSTAGRAM: Foremost a photo-sharing site it appeals to the visual side of your customers as there is now the option of 15 second video as well. At present there are 150 million active users and most brands are not only using pictures their customers can relate to but using #hashtag as well. Instagram is great for competitions and if your business has some great visuals this could be the Social media network for you. Since Instagram was acquired by Facebook it has kept going from strength to strength.  Instagram's tagline is "Capture and Share the World's Moments" and Instagram is all about just that. Moments. Visual Moments. With 150 million monthly users, chances are, your target market and ideal client are on Instagram (or about to be, if it continues to grow at this rate).
With 150 million monthly users, chances are, your target market and ideal client are on Instagram.
Click To Tweet
PINTEREST: The final Social Media platform we will look at today is Pinterest. Predominantly a female network at 68% of all users, there are in fact 70 million active users. Touted as a social site all about discovery it has in fact more user engagement than any other Social Media platform. It is a content sharing service that allows members to post or 'pin' videos, photos, infographics and other images to their pinboards. Perfect for businesses with great visual imagery such as 'Decor', 'Wedding services', 'Babies', 'Fashion' and 'Recipes' as you can not only 'like' but also 'pin' the images that resonate. Each board is linked to the Pinners profile so there is no doubt as to who the business, brand or person is behind the videos or photos. You can also comment on peoples boards, share and click through to the website that the images came from.
Of Pinterest's 70 million active users 68% are women with more user engagement than any other Social Media platform.
Click To Tweet
Finally remember that Social media should be working for your business, building a following will take time and consistency as you are working towards long term success. Set a goal of six months for your Social network of choice to concentrate on building a business or brand community and reputation online. You must be there to listen to your customers not just sell … but that's a different conversation again.