Retargeting For Websites & Facebook
What Exactly is Retargeting for Websites?
Retargeting For Websites and Facebook has become a bit of a buzzword these days. You've seen those Website or Facebook adverts that just seem to follow you around the internet the minute you've gone to look at their website. Most savvy Small businesses know they need it for their marketing, but how exactly does it work and what is it?
What is Retargeting?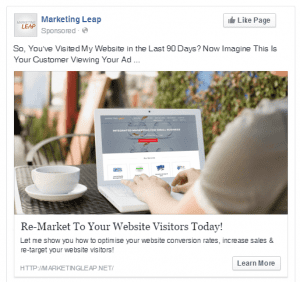 Retargeting lets you selectively advertise to people who have already visited your Website or Facebook Business Page with a message that is tailored to whatever they are interested in about your business. This, simple marketing practice keeps your brand top of mind and brings the right customers back to either your Website or Facebook page. Think this is just the latest gimmick? 69% of Australian marketers plan to increase their retargeting budget in 2015, bringing it in line with search engine marketing and email marketing as one of the top three must-have tactics for reaching and converting potential customers.
How Retargeting Works
By adding a snippet of code called a "pixel" to your website HTML, you can collect non-personal data about your website's visitor behaviour. Non-personal information being things such as which pages a user visited on the site, the date and time they stopped by and their approximate geographic location based on their IP address. The way a user interacts and moves around your website tells you a lot about their interests and shopping habits. To use a technical marketing term, this is "intent data" which can help you target your customers wherever they go online. According to AdRoll a Performance Marketing company: "Intent-based retargeting is so effective that 88% of Australian marketers consider retargeting equal to or better than search (PPC & Adwords) and 93% say that retargeting performs the same as or better than other display campaigns."
The Types of Retargeting
The average consumer switches between laptops, mobile phones, computers and different social media platforms (i.e. Facebook, Instagram, Pinterest etc), several times a day. The savvy small business marketer will ensure they can reach their potential customers while statistics prove that businesses that do retargeting actually have more success when marketing across all these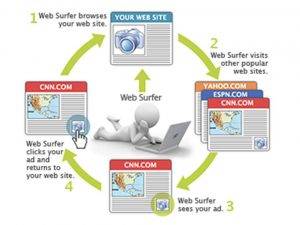 platforms. To reach these potential customers, retargeting can be broken into three different types:
Web Retargeting
Ever seen 'those' adverts that seem to trail you around the internet? You visit a Cruising website and suddenly Carnival or P&O appear wherever you are online in the side banners or the middle of a blog you are reading? This is web retargeting. Targeted online ads are bought on Google and Bing and are shown on news sites, blogs and other online sites. You can't miss the targeted ad placement and this keeps the Cruise line top of mind. You'll continually be reminded you want to go on a cruise, and more than likely this will (eventually as cruise holidays are an expensive item) bring you as the customer back to start a transaction, booking, enquiry or purchase. Web retargeting so much more effective than any other strategy for placing online display ads a fact proven by 93% of Australian marketers who use retargeting.
Retargeting on Facebook 
Did you know that 80% of consumers look to friends and family for product recommendations and, for many, paid ads on Facebook serve the same function. Not only does retargeting on social media give you access to some of the largest audiences online (69% of Australians now use social media) it also lets you take advantage of Facebook's social tools, such as share, like and comment. By adding retargeting on social, advertisers have seen up to double the number in clicks, 2.13 times more impressions and 1.38 times more conversations or engagement. Since only 14% of potential customers will see both the site retargeting campaign and the social campaign, adding Facebook and other Social platforms to your retargeting programme can expand your reach significantly.
Mobile Retargeting
Mobile devices are being used more and more by consumers to browse and buy everything from clothes to software. By 2018, there will be more than 25 million smartphones users in Australia and over 64.4% of Australian digital ad spending will be dedicated to mobile. The growth of mobile has grown so large that Google now penalises websites that are not "mobile friendly". As the name suggests, mobile retargeting, simply means advertisers can retarget visitors as they're browsing Facebook or the internet on their mobile devices. The reverse is also true in that mobile site visitors can also be retargeted directly as they browse other mobile sites.
Mobile retargeting can be a very useful channel for any brand with a mobile-optimised site or mobile app.
By understanding Retargeting, your Small Business can use it as a great way to keep your potential clients engaged and interact with people who have already shown interest in your company or product. While it may sound like a simple enough concept, there are many aspects of a retargeting campaign that must be worked out before you make the ad copy and creative. Be sure to give enough time to make your lists, set goals and types of campaigns, determine the platforms your ads will run on, and tie the whole conversion path together. Then there is the coding which brings the entire concept together.
Want to learn more about Retargeting but not sure which step to take now? Let's talk and see how we can include retargeting into both your Facebook and online advertising to create an integrated marketing experience for your customers.
Let's Talk Retargeting Integration